In the Internet age, spoilers have become more and more familiar. With huge television shows like The Walking Dead and Game Of Thrones (and before that, Breaking Bad)–the ones that you know everyone is watching–it's harder than ever to avoid seeing something online about the most recent episode before you've had a chance to watch it. Not only that, the invention of Netflix may have brought us inherent joy, but it has also led to binge-watching marathons, and with new shows, it's difficult for many people to keep their opinions to themselves for the benefit of those who haven't started the series yet. Remember when Netflix's Making A Murderer dropped? Or HBO's Behind the Candleabra?
It's not that people want to spoil things, necessarily; it's that entertainment is much more fun if you can share it with others. Everyone likes to feel like they are a part of something, that they are knowledgeable about what's going on in pop culture and can add to or improve the discussion. It becomes problematic, however, when a person routinely jumps onto social media to spoil something for those who haven't seen a movie, or a show or read the book.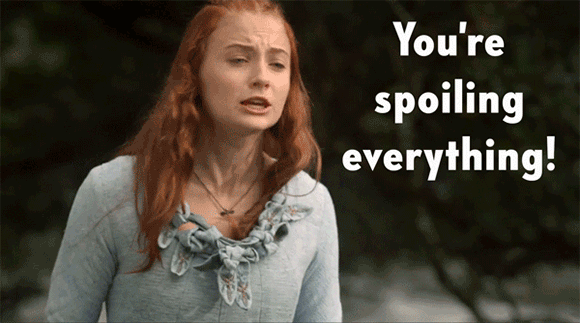 Here are some of the best ways to keep from dropping spoilers.
Start a club
One of the easiest ways to keep yourself from spoiling something for others is to start a group of like-minded friends who have the same interests. If your thing is Game Of Thrones, organize watch parties so that everyone is present to view it live. Create a private Facebook group so that members of the club can hop online and talk about any episode they want without fear of ruining it for someone else. You might even get together once a week and talk about the books, or about something huge that happened in the last episode. This way, you are exchanging ideas and getting feedback from others without putting it out there for everyone to see.
Impose rules for yourself
Keep in mind while watching (or reading, as the case may be) that not everyone has access to the show, movie, or book at the same time you do. If you constantly have your phone by your side (and, let's face it, most of us do), plug it in to charge in a different room so you won't be tempted to hop online and post a spoilery status.
Keep a journal
It may sound silly, but maintaining a journal could help you get out your feelings regarding your viewing habits without sending them out into the world. Write down your thoughts on the episodes or film and don't be afraid to get creative; look online for behind-the-scenes videos on how it was made. Doing some research on things will help you figure out what you liked–and didn't like–about it so that you won't need the feedback of others.
Start a blog
Blogs can be excellent tools for sharing thoughts about movies, shows, books, and anything else that interests you. The best thing is, you can keep it private or share the link for others to find should they feel up to discussing the topic. You can even start doing reviews, giving your honest opinion on various forms of entertainment to open up discussion.
Dolly Santos is an information junkie. She loves researching and learning about new topics. At Dollymath.com, she compiles thoughtful educational articles based on her conscientious analysis of available information.